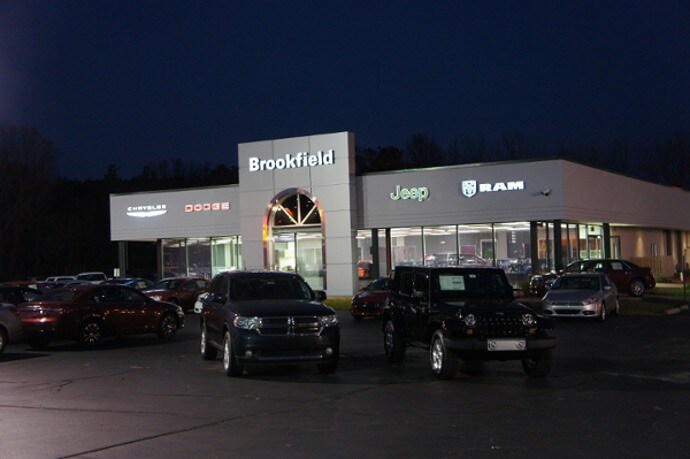 A Hometown Success Story!
The moment you walk into Benton Harbor's Brookfield Chrysler Dodge Jeep, you know that you haven't arrived at the usual car dealership, but a rare place where hometown values and upbeat styling have been combined to become a modern day success story.
The story of Brookfield starts back in 1946, when its original owner Sheldon Bridges and his son Dick built a new building at its previous address in Watervliet. The business was known as Bridges - Chevrolet - Olds - GM - Buick
In 1983, Robert Brookfield of Hartford and his son, Don Brookfield, took over ownership of the dealership and a success story was born.
The business was called Brookfield Chrysler - Plymouth - Dodge in the 1980's and in 1990 Jeep was added.
Don Brookfield said that the 80's were a bad time for car dealerships. After the first Arab oil embargo things were rough, but after the second oil embargo, dealerships started going out of business right and left. Brookfield not only held on during those tough times, Don reports, but it "survived and soared". It became the only dealership in Watervliet. "For some reason," Brookfield said, "manufacturers felt small towns couldn't survive, but they recognized the potential of Brookfield."
From 1983 to 1993, there was a "decade of change" at the dealership. Brookfield purchased four buildings surrounding the dealership and expanded the operation. "We not only completely remodeled the dealership," Don said, "but we went from four employees to as many as twenty. We had to know what we were doing and we had to have people committed to their jobs."
Don said the vision of the dealership is, "to improve the level of service to customers and let them know that the quality of service they get here will not take back seat to any other dealership. The 'Brookfield Edge' guarantees our customers the level of service they are looking for.  Trust, Confidence, and Respect are the core values that we use every day with each customer."
In July of 2012, Brookfield relocated to their current address at 1845 Pipestone Road, Benton Harbor, MI 49022. They completely remodeled the existing building and have been experiencing a huge level of success since the grand opening in August.
Brookfield has had the pleasure of having some very long-time employees in its service. Judy Brooks, the Office Manager, has been with Brookfield since 1983 and Sales Consultant Sally Sexton since 1999.
Don expressed that, "these are more than professional people. They are good people with a wealth of knowledge."